We all know how much us Aussies love a good old-fashioned BBQ, today I was lucky enough to attend the Royal Qld Food and Wine Show's (RQFWS) prestigious Branded Beef Awards, and even more lucky to taste the best of the best in the country.
Held at Brisbane's RNA showgrounds, the Branded Beef Awards is a comprehensive competition boasting a record number of entries this year.
RQFWS Chief Judge Russell Smith said the standard of entries for the Branded Beef and Lamb Awards competition highlighted industry trends towards a more uniform, tender and flavoursome product.
The Branded Beef Awards judges certainly had a tough choice making the final decision, check out the entrants this year.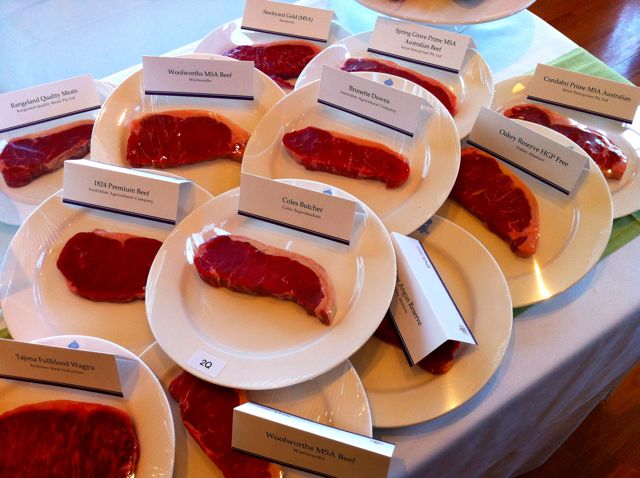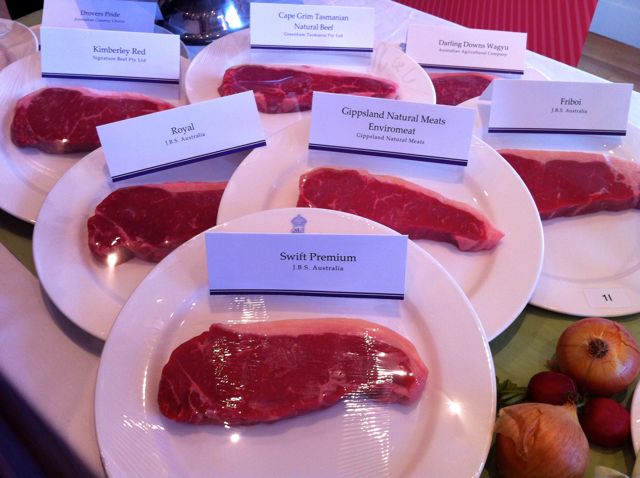 Check out the marbling on #424…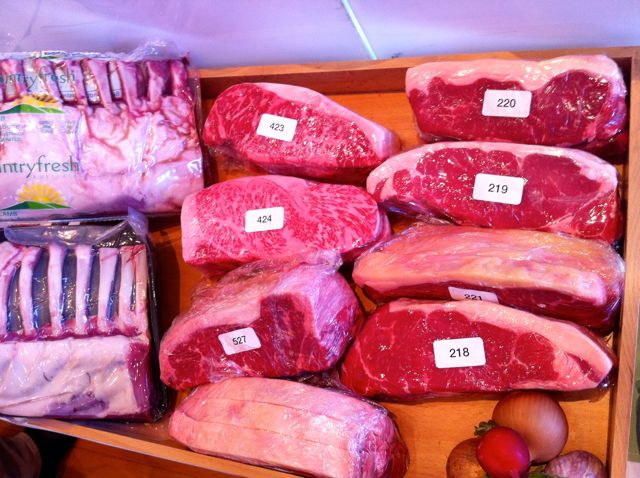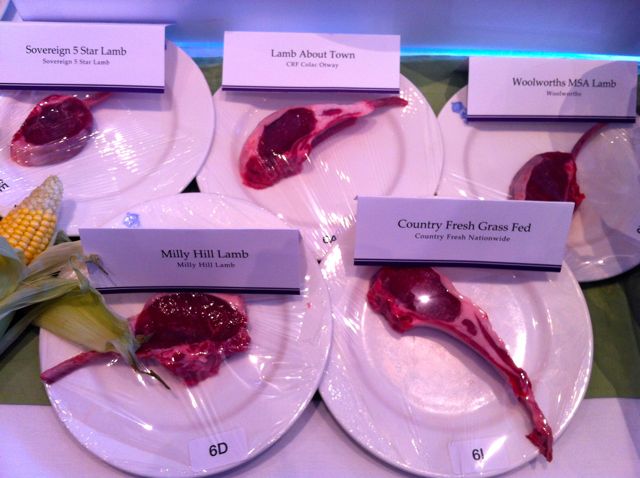 Having tasted a luscious mouthful of the 'best steak in the nation' Tajima Wagyu, I certainly have to agree with Judge Russell Smith. The Tajima Wagyu steak displayed a beautiful succulency and juicy flavour that had me wanting more… and more.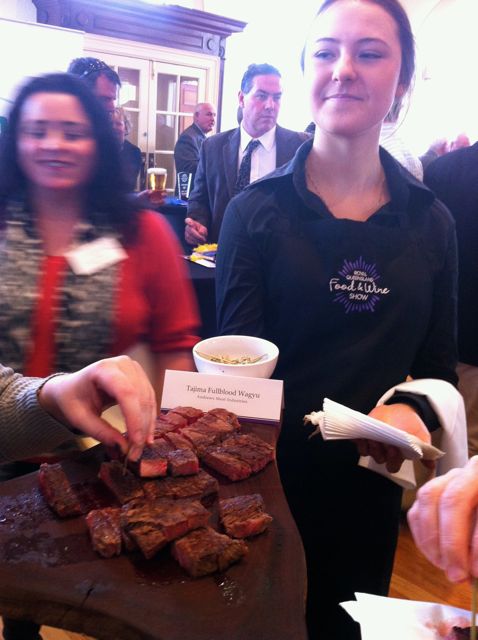 New England Gold was crowned Australia's Best Lamb, and boy do I agree! That bad boy chop right there certainly packed a flavour punch.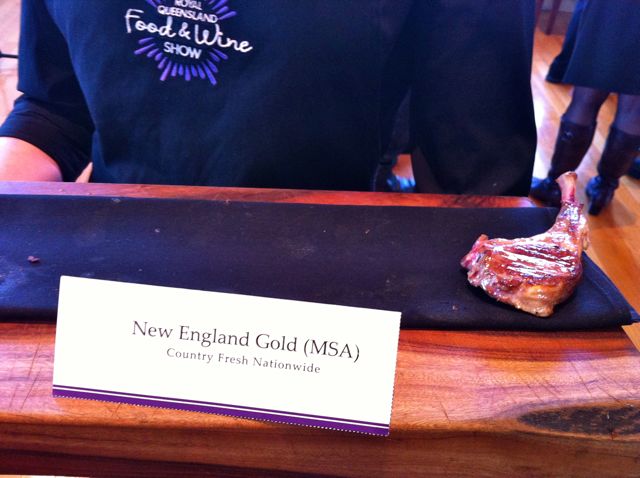 As a consumer I think it's so important we're educated on not only where our meat comes from, but where we can buy the best meat. It's all very well for our top chefs and restaurateurs to know, but the average Australian consumer I know is interested too. That's why I think these types of awards are so important; they assist both Australian producers and consumers as well.
It wasn't only about the meat today, but Miss Foodie too. Today was the first time I was invited to an event as 'Miss Foodie' (Thanks Foxed Glove). A photographer took a photo of myself and a fellow tweeter Gemma, he asked what my name was, I replied proudly, Miss Foodie, Food Blogger. It felt a little bizarre at first, but then I kind of got used to it, I thought yeah, I can handle this gig. It was wonderful to meet a few fellow Brisbane food bloggers today too (eat,drink+beKerry, everyday cook, MayKing Tea) was nice to put a face to the name. I've been invited back to the RQFWS Sausage King, Beer and Qld Wine awards too, and the lovely MayKing has invited me to a special Tea event this Friday. I'm of course a super thrilled  foodie right now that's for sure.
You'll find all the winners from todays Beef Awards below. Let me know if you venture out to buy one of these mouth-watering meats, or if you see any on the menu on your next steak outing, I know I'll be on the prowl!
2012 RQFWS Branded Beef Winners
AUSTRALIA'S BEST STEAK
The John Kilroy Cha Cha Char Champion Branded Beef of Show
Tajima Fullblood Wagyu exhibited by Andrews Meat Industries from Lidcome in New South Wales
Champion MSA Graded (Non Wagyu) Branded Beef of Show
Highland Park Grassfed Beef exhibited by Aldi Stores from Minchinbury in New South Wales
Lend Lease Grain-Fed MSA Graded
Gold: Stockyard Gold exhibited by Stockyard from Brisbane in Queensland.
Silver: Drovers Pride exhibited by Australian Country Choice from Morningside in
Queensland
Bronze: Kimberley Red exhibited by Signature Beef from Clermont in Queensland
Lend Lease Grass-Fed MSA Graded
Gold: Highland Park Grassfed Beef exhibited by Aldi Stores from Minchinbury in New South Wales
Silver: Manning Valley exhibited by Wingham Beef Exports from Wingham in New South Wales
Bronze: Cape Grim Tasmanian Natural Beef exhibited by Greenham Tasmania from Melbourne in Victoria
The Australian Wagyu Association Wagyu Class – AUSMEAT Marble Score 1 to 5 – MSA and Non MSA
Gold: Darling Downs Wagyu exhibited by the Australian Agricultural Company from Brisbane Queensland
The Australian Wagyu Association Wagyu Class – AUSMEAT Marble Score 6+ – MSA and Non MSA
Gold: Tajima Fullblood Wagyu exhibited by Andrews Meat Industries from Lidcome in New South Wales
Silver: Master Kobe exhibited by the Australian Agricultural Company from Brisbane in Queensland
Bronze: Stockyard Black exhibited by Stockyard from Brisbane in Queensland
ANZ Agribusiness Open Class – Non MSA and Organic
Gold: Royal Beef exhibited by JBS Australia from Dinmore in Queensland
Silver: Spring Grove Non MSA Australian Beef exhibited by Atron Enterprises from Wahroonga in New South Wales
2012 RQFWS Branded Lamb Winners
AUSTRALIA'S BEST LAMB – Champion Branded Lamb of Show
New England Gold exhibited by Country Fresh Nationwide from Newstead in Queensland
Meat and Livestock Australia Branded Lamb MSA and Non MSA
Gold: New England Gold exhibited by Country Fresh Nationwide from Newstead in Queensland
Silver: Sovereign 5 Star exhibited by Sovereign 5 Star Lamb from Mansfield in Queensland
Bronze: Tasmanian Royal exhibited by Melrose Wholesale Meats from Sherwood in Queensland