Like any proud strawberry one should aspire to be plumb, firm, well rounded and have a solid natural red colouring that delivers a sweet delicate flavour.   The Queensland strawberries I've been enjoying lately have been just that, and frankly, I can't get enough of them.
Whether I'm enjoying strawberries for breakfast with Gippsland yoghurt and Pura Veda, strawberry smoothies or just as a sweet afternoon snack, strawberries are just delightful. I have an abundance of them at home so this week I've got another recipe using this charmingly, sweet fruit.
Feeling compelled to bake and not wanting to dash out to the shops to buy eggs (I used them all up on my weekend hot breakfast cook-up you see) I had a look around for an egg free cake; I wasn't even sure there was such a thing.
Upon my quest I was surprised at the amount of egg free recipes there were out there, stunned also at how many people can't eat eggs – so for those people, this one's for you: Strawberry Cake…without the eggs.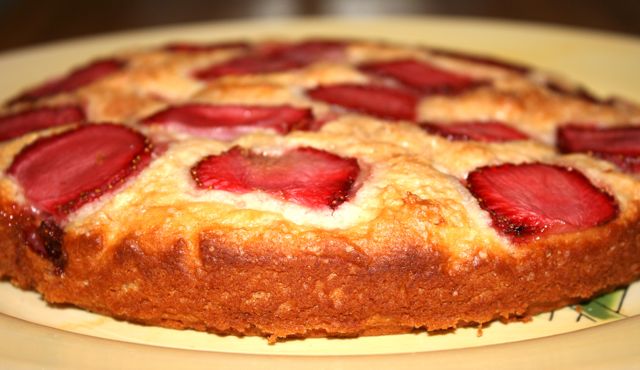 Now I admit, I'm not a big cake eater, but as I said last week my doting Miss Foodie followers said they wanted more sweets so I thought this would be a great recipe to try, and indeed it was…
When my Strawberry Cake emanated from the oven I was so chuffed – I actually baked a cake and it actually looked worthy too. This egg free Strawberry Cake is a breeze to make and the strawberry flavour throughout is oh so sweetly satisfying, not only for the taste buds, but for the eyes too.
I served it hot out of the oven with fresh whipped cream and a hot cup of earl grey tea – how divine it was indeed, a perfect way to end one's weekend I say.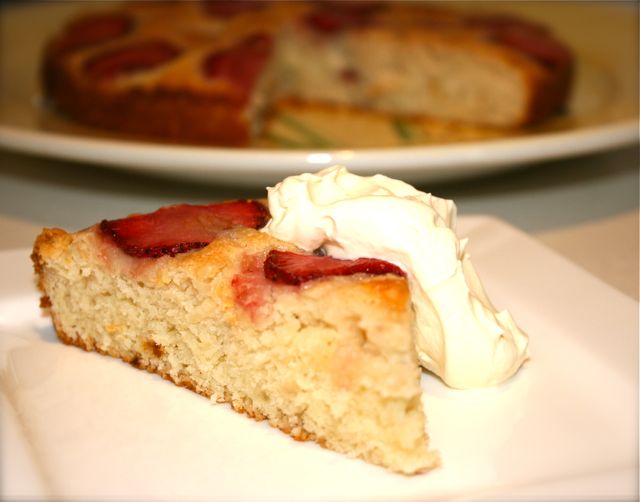 Strawberry Cake…without the eggs
Ingredients
1 cup plain flour
½ tsp baking powder
½ tsp baking soda
½ tsp salt
2 tbsp unsalted butter, softened
1 tbsp vegetable oil
2/3 cup caster sugar
1 ½ tbsp raw sugar, for sprinkling on top
½ tsp pure vanilla extract
¾ cup plain yoghurt mixed with little water or milk
1 ½ cups fresh strawberries, sliced thinly
Method
Preheat oven to 175°C with rack in the centre. Grease a 20cm round cake pan.
Mix dry ingredients together, flour, baking powder, baking soda, and salt.
With an electric mixer, beat butter, vegetable oil and 2/3 cup caster sugar at medium-high speed until pale and fluffy, then beat in vanilla extract.
Gently, mix in flour mixture in 3 batches, alternating with yoghurt. Start and end with flour mix and only mix until just combined, you don't want to over beat the batter. Gently fold in chopped strawberries.
Spoon batter into cake pan, smoothing top. Scatter sliced strawberries evenly over top and sprinkle with remaining 1 ½ tbsp sugar.
Bake until cake is golden and a wooden pick inserted into centre comes out clean, about 25 to 30 minutes.
Cool in pan for 10 minutes, then turn out onto a rack and cool to warm, 10 to 15 minutes more.
Slice cake straight away and serve warm with a healthy dollop of whipped cream or ice cream.